Our common enemy
Winter is here and so is the flu, which is why we have unveiled a new weapon in the fight against the potentially deadly virus.
The King of the North has joined the ranks of the Swansea Bay University Health Board flu fighters this year.
But instead of rallying support against the Night King and the White Walkers, our hero is encouraging everyone to mount a fight against flu by ensuring they have the vaccination.
The professional Jon Snow lookalike, pictured above and below, stars in a series of short, social media videos and on posters that capitalise on the popularity of the epic Game of Thrones TV series and the heroic character's catchphrase: "Winter is coming".
To see the latest videos see below and follow our Facebook page @Swanseabay.nhs and Twitter @SwanseabayNHS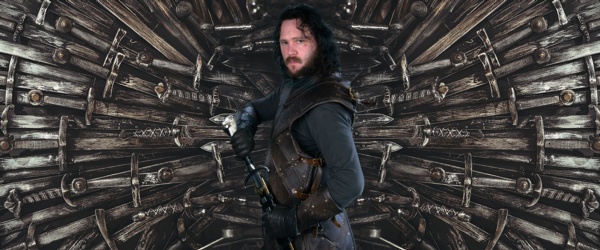 ---
What is flu?
The flu is not just a bad cold.
Both are respiratory illnesses, but they are caused by different viruses.
In general flu will make you feel much worse than a common cold. It can also lead to serious complications such as bronchitis and pneumonia, which may need treatment in hospital.
Healthy people can be made really unwell by the flu and every winter people in Wales die because of the virus and its complications.
The risk of serious illness is even greater for the very young and old, pregnant women and people with long-term health conditions.
How can I protect myself and my family?
The best protection against flu is offered by the vaccination.
A new one has to be issued every year as the flu virus is constantly changing.
All children from two and three-year-old pre schoolers to pupils in year six of primary school will be offered a free, nasal spray vaccination called Fluenz Tetra either by their GP surgery or school nursing service.
However, some children with health problems may be offered the flu vaccine injection instead.
The nasal spray is a live flu vaccination. But the virus has been weakened and cannot cause flu.
It is particularly important that children are vaccinated as they are 'super spreaders' of the flu.
As their hygiene is often not as good as adults, they are more likely to spread the illness among their families and the community.
Those aged 18 and over with long-term health conditions, pregnant women, people aged over 65 or over 55 in prison, NHS workers and carers are among those who will be offered free flu vaccine injections either by their GP surgery, pharmacy or workplace.
The vaccine injection is known as the QIVe (if egg based) , QIVc (if cell based) or aTIV.
It is an inactivated vaccine, which does not contain live flu virus. It cannot give you the flu.
Many pharmacies and supermarkets also offer flu vaccinations for those not in at-risk groups.
To find out more, visit: Public Health Wales Flu advice page
More videos