Outpatient Clinics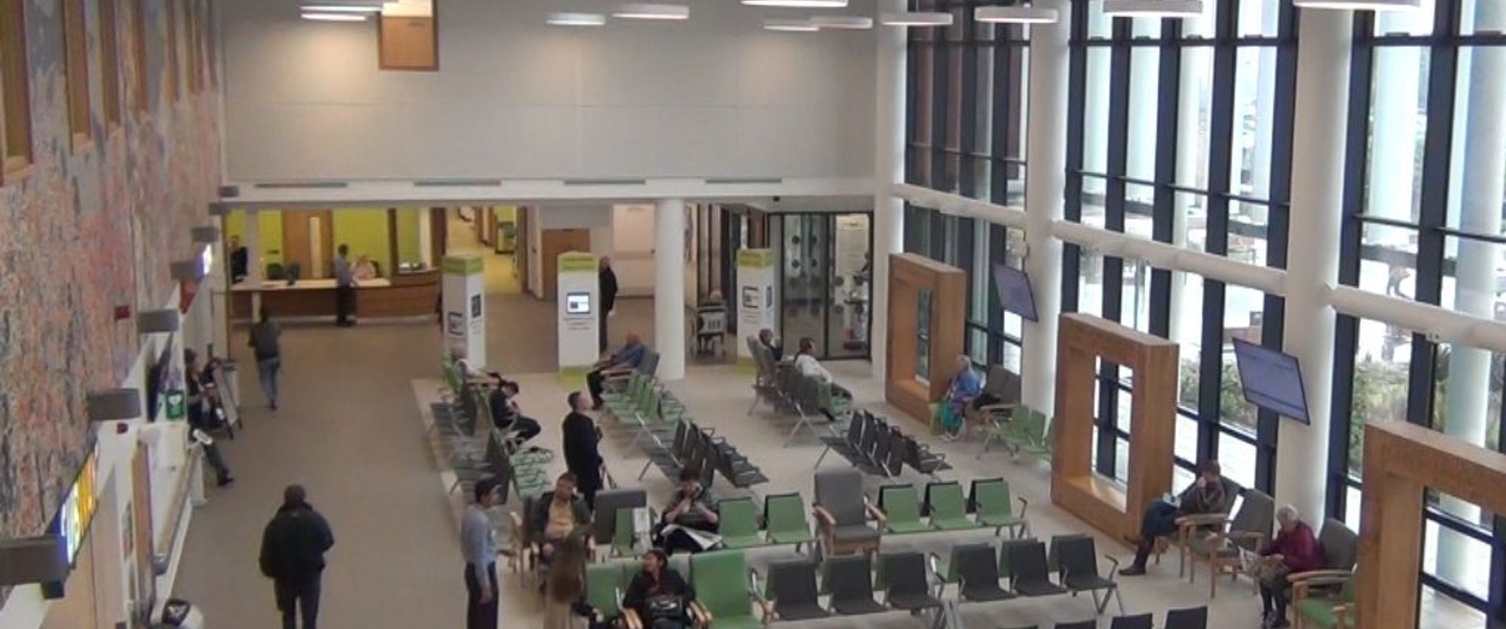 COVID-19 Updates
COVID-19 VISITING UPDATE: Please note our rules regarding hospital visits have changed. For the latest guidance on our visiting regulations, please visit this page.
Outpatient clinics suspended
Due to to the current COVID-19 situation we have had to suspend the majority of our outpatient clinics. We apologise for this inconvenience.
Please be aware that we are only able to see URGENT cases. All others will be postponed until further notice.
Please do not attend a booked appointment unless you have had a specific text, phone call or letter asking you to come in. Please note - only correspondence since Saturday, 14th March should be taken into account as confirmation of attendance.
We will be re-booking your appointments as soon as possible and will let you know in due course.
Outpatient clinics still going ahead
Some outpatient clinics will still be running. If you have an appointment with these clinics, please attend as arranged, in line with the instruction in your original appointment letter (unless you hear otherwise from us.)
Paediatrics
Neonates
Ophthalmology
Thyroid
Oncology
Renal - Go to this page for more detailed information for renal patients.
Antenatal - Go to this page for more detailed information on changes to antenatal care.
__________________________________________________________________________________________________________
To book appointments
For Singleton and Morriston hospitals please email: swanseaopd@wales.nhs.uk
For Neath Port Talbot Hospital please email: powopd@wales.nhs.uk
Text reminder service
We now operate a mobile phone text reminder service for outpatient clinics. Find out more here (link to document)
Clinic contact details
Sexual health: 0300 5550279
Continence Service: 01792 532424
Morriston Hospital Emergency Department (A&E) outpatients:
01792 532472 or 703428 (option 4) email: A&E.appointments@wales.nhs.uk
Morriston Hospital Outpatients:
01792 583700, email: abm.appointmentoffice@wales.nhs.uk
Singleton Hospital Outpatients: abm.appointments@wales.nhs.uk
Morriston Maxillofacial: 01792 703058
Podiatry: 0300 3000024
Singleton Audiology: 01792 285270
Swansea Physio Direct: 01792 487453
Patient focused booking
We aim to book your appointment at a hospital close to where you live, but not all services are held on all sites, and you may have to travel to another hospital or clinic within the Health Board to attend the most suitable appointment.
Appointments for some specialties / consultants are held on a number of sites, and you may be able to choose which hospital you attend, which fits with your work or other daily commitments.
Many of our outpatient waiting lists are 'pooled'. This means that you can be offered an appointment with a number of consultants within the specialty, which promotes equity of access as waiting times will be based on the date referred rather than the consultant referred to.
What if I can't attend the appointment?
Please let us know as soon as you know that you will not be able to attend the appointment, so that we can offer it to another patient and arrange another suitable date for you. Contact details for outpatient clinics are at the top of this page.
If you are unavailable for a period of time, we will update your records accordingly, but please note that this may affect the length of time you wait.
Transport for patients needing to get to Non-Emergency appointments who have a specific medical need
The Welsh Ambulance Services NHS Trust provide a Non-Emergency Patient Transport Service for patients across Wales who are unable, for medical reasons, to make their own way to and from their hospital appointments.
It is a vital resource to help those patients who rely on the service and it should not be used by those without a medical need.
Please note that a need for treatment does not automatically imply a need for transport. There is an eligibility process that all patients are required to go through to ensure that your needs are appropriate for the service.
For patients who are found non eligible, there is an Alternative Transport Team that can discuss transport options in your area.
You could be eligible for hospital transport if;
You are receiving regular dialysis or cancer treatment;
You require a stretcher for the journey;
You require oxygen for the journey;
You need to travel in your own wheelchair;
You are unable to walk without continual support;
You are unable to use public transport because you have a medical condition that would compromise your dignity;
You have severe communication difficulties or;
You will experience side effects as a result of the treatment for your condition.
Cancelling Transport
Up to 100,000, Non-Emergency Patient Transport journeys every year result in the patient not travelling or not being at the collection point when our crews arrive. Cancelling transport, if it is no longer needed, is very important and allows the Non-Emergency Patient Transport Service to offer the booking to another patient.
If you are eligible and book transport but need to cancel a booking, please call the number below or visit their website.
For more information please visit www.ambulance.wales.nhs.uk or call 0300 123 2303