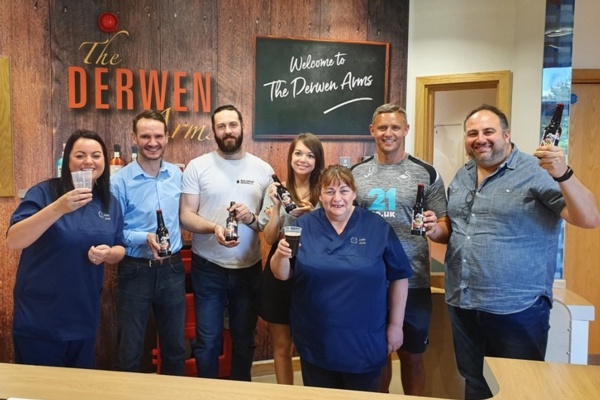 A unique pub on a dementia ward now has its very own brand of alcohol free beer with a very pertinent name – Sundown.
Left: Invited guests including Swans ambassador Lee Trundle and BBC Radio Wales presenter Wynne Evans sample the new brew with Dawn Griffin and Katharine Protheroe
The Derwen Arms, located within Derwen Ward, a 20-bed, all-male dementia assessment unit in Swansea Bay University Health Board's Cefn Coed Hospital, hit the headlines when it opened earlier this year.
Although a local like any other, serving beers and refreshments and with its own pool table and dart board, the beer is strictly non-alcoholic and the darts are made out of plastic, although that hasn't stopped the pub from being a hit with its customers.
The innovation, which means that the patients who used to meet up in the pub after work can still enjoy their evening pint, has even seen an improvement in behaviour and less need for medication.
After reading about the pub, Swansea-based Boss Brewing got in touch with the ward and offered to provide its own exclusive non-alcoholic beer, which they asked the Derwen staff to name. They settled on Sundown after a symptom of dementia called Sundowning, also known as late-day confusion, which can see confusion and agitation in someone with dementia getting worse in the late afternoon and evening.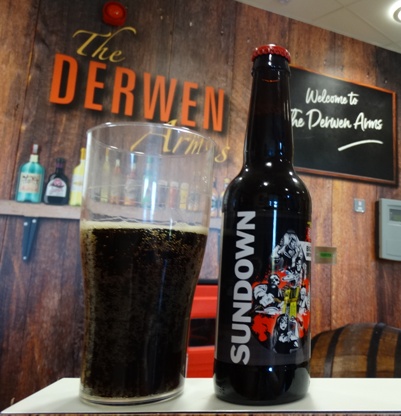 The beer was officially launched in the Derwen Arms with special guests Wynne Evans from BBC Radio Wales and former Swans favourite, Lee Trundle.
Derwen Ward manager Katharine Protheroe said: "The Derwen Arms improves the patterns of behaviour on the ward and reduced medication and increased wellbeing for patients and staff alike. What we didn't realise would happen is the amount of publicity and attention it would gather.
"We are very fortunate that Boss Brewery saw our article online and contacted us with a very kind offer to create an alcohol free beer just for us. The only problem was, what to call it? After mulling it over, we decided to call it Sundown. It refers to a particular pattern of behaviour that can happen on this type of ward."
Dawn Griffin, clinical lead, added: "Sundown is a presentation that comes out in patients suffering from dementia, particularly in the evening. I suppose you could look at it as during the day they are fully occupied, some of them see it like they have worked a shift on the ward but they are still here at the end of the day.
"They want to know why they can't go home. They tend to get a little bit agitated and unsettled. We thought that naming the beer Sundown was pertinent as it had an impact at that time of day. We can engage a patient, bring them down to the pub – it's something they have always done to socialise before and they are familiar with – it reduces the effects of the Sundown."
Thanking their special guests, Dawn said: "For Lee and Wynne to give up their time and come to see us on the ward, and to see for themselves the impact the pub has had on, not just the patients but the staff as well, has been fantastic."
Wynne Evans, who recorded a feature on the Derwen Arms for his BBC Radio Wales show, said: "I've been to lots of pubs and when I was invited down for a pint, I did not think that it would be in the middle of a hospital but what a fantastic venture.
"I've never seen anything like it before. You can hear people socialising in there, it's like a regular pub. The patients seem to be feeling the benefits and from what I've heard from the staff, the benefits are numerous, reducing medication and improving behaviour. I can see it being something that is rolled out all over the country."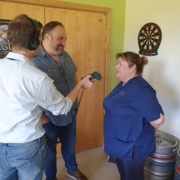 Left: Katharine Protheroe being interviewed by Wynne Evans
Sarah John, of Boss Brewing, which produced the beer along with Bid Drop Brewing Company, said: "It is so humbling to be able to help this amazing cause in this way. When we heard that the incredible staff at the hospital were seeking beer donations from the major breweries and that they were putting their hands in their own pockets to buy beer for the Derwen Arms, we just had to get involved.
"As someone whose Grandfather had dementia and who worked for the Alzheimer's Society before going into business, it is a cause that is very close to my heart. The highlight of the launch was seeing the lovely gentlemen on the ward enjoying the beer and how relaxed and calm they all looked in the pub; it was incredibly moving."