Swansea Bay University Health Board is celebrating success in this year's NHS Wales Awards.
Our employees were victorious in two categories of the annual awards, designed to celebrate individuals and teams across Wales whose innovative work has transformed the experience and outcomes of their patients.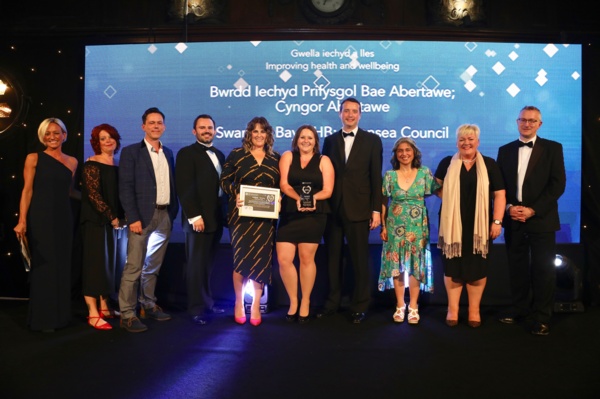 Left: The victorious Early Years team
Of the winners, Swansea Bay's Primary Care Children and Families' Wellbeing team won the Improving Health and Wellbeing category of the NHS Wales Awards 2019, alongside Swansea Council, for their work to reduce the impact of adverse childhood experiences in the Penderi ward, which takes in some of the most deprived areas of the city.
While the South Wales Motor Neurone Disease Care Network, which spans six health boards across South Wales, including Swansea Bay University Health Board, won the Providing Services in Partnership across NHS Wales category of the showpiece awards for its work in making the journey of its patients a little bit easier through better care and support.
A further three projects involving Swansea Bay staff also deserve praise having narrowly missed out after being shortlisted for awards.
Following the awards ceremony, held in Cardiff on Thursday evening, Tracy Myhill, Swansea Bay's chief executive, and Emma Woollett, the health board's interim chair, jointly congratulated the winners.
Their statement said: "What a wonderful evening we had recognising and celebrating the great work of NHS Wales and how proud we were to see the recognition for Swansea Bay for the winners and those shortlisted and, of course, for all of our people in Swansea Bay for the sterling efforts and contributions they make, day in day out, to improve the health of the population we serve and in providing care for our patients when they need us."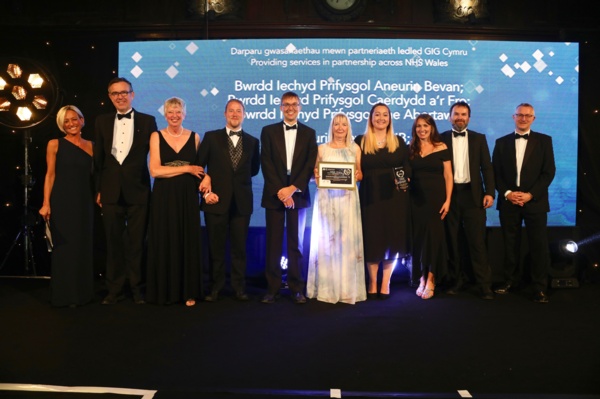 Above: The victorious MND Network team
Of the early years team's triumph Swansea Bay's cluster development manager, Tony Kluge, said: "This programme has made such a life changing impact for so many people in Penderi. It's only as a result of extraordinary dedicated hard work by the delivery team and managers, PHW, 1000 Lives Service Improvement Team, the Penderi Cluster and our own department that we were able to win such a prestigious award. We're over the moon!"
Idris Baker, a palliative medicine consultant based at Ty Olwen and co-director of South Wales MND Care Network, said: "I was delighted to see this recognition for the team's hard work. They thoroughly deserve it. They have made a reality of the vision to get us closer to an equitable service for people living with MND whether they live in Llandaff or Llandeilo."
"There's plenty more for the Network to do, and we're looking forward to helping spread the word about this kind of approach so that more people with MND and with other conditions can benefit from it."
While Minister for Health and Social Services, Vaughan Gething said: "Each year I'm overwhelmed by the dedication, ingenuity and drive of our NHS staff to make a positive change on behalf of the people of Wales. Given the unprecedented uncertainty that we are living through the need for hope and inspiration is even greater than usual. The awards are a celebration of your commitment and hard work. I extend my congratulations to each of the winners."
The NHS Wales Awards are a national showcase for excellence and celebrate good practice in delivering improved, high quality patient care across Wales. The Awards were launched in 2008 to celebrate the 60th anniversary of the NHS.
Now in its eleventh year, the NHS Wales Awards are open to teams and organisations, with the aim of uncovering, acknowledging and celebrating good practice that has helped to transform patient care.
The three other Swansea Bay projects that were shortlisted are:
Improving health and wellbeing
Pre-treatment Optimisation and Pre-habilitation in Lung Cancer
Improving patient safety
Digital Innovation in Kidney Care: Electronic Prescribing and Medicines Administration (EPMA) for Haemodialysis
Providing services in partnership across NHS Wales
Swansea Bay University Health Board and Welsh Risk Pool working in partnership to reduce avoidable pressure damage across NHS Wales
Find out more about our winners
MND Network https://tinyurl.com/y6k6u2g9
Early Years' Programme https://tinyurl.com/y3pvm77q