At a time when loneliness and isolation appear to be on the increase, the Cwmtawe Cluster is helping to rebuild a sense of community in the Lower Swansea Valley.
The group of three GP surgeries (Cwmtawe Medical Group, Llamsamlet Surgery and Strawberry Place Surgery), which works alongside partners such as the local authority and Swansea Council for Voluntary Service (SCVS) to devise innovative ways of delivering healthcare and supporting wellbeing, has welcomed Roxane Dacey (pictured above) to the role of Our Neighbourhood Development Officer.
The post, funded by the West Glamorgan Regional Partnership, and hosted by SCVS, will see Roxane working with groups and individuals in Clydach, Morriston and Llansamlet, to compile an index of groups and facilities in the cluster area.
She is also tasked with helping set up new groups that will help develop a sense of community.
She said: "It's all about strengthening the community. Doing a bit of research to see what's already out there that can be built upon.
"There may be an existing childcare group that's working really well in Llansamlet but they don't have anything in Clydach, so it may be about developing something similar in that area.
"Or it may be about developing something completely new."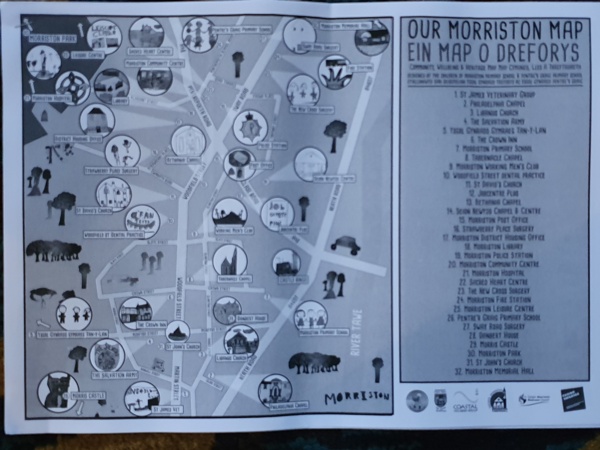 Left: Amap of resources in Morriston.
At present Roxane is looking at the resources currently available.
She said: "The aim, initially, is to carry out some mapping of the area, to involve the community in mapping the existing assets.
"It could be anything; buildings, open spaces, churches, a community hall or pubs, anything where the community would access something."
She is also available to help new groups establish themselves.
She said: "I work closely with the development team at SCVS, as well as the social prescriber and the local area coordinator, as they already have good links in the community.
"It's all about working as a partnership. They come into contact with people and I would set up groups based on what they need.
"There are all sorts of things that I am currently looking at.
"We are starting a regular walk in Morriston Park with the Friends of Morriston Park group.
"We've just set up a refugee drop-in at Morriston Tabernacle with the 'A Better Welcome to Swansea' Development Officer at SCVS, and I've supported the Men's Shed in Clydach to get funding.
"Anyone and everyone is welcome to get in touch with me, from someone just wanting to find out what was going on in the community, to a group that meets already but needs a bit of support, or someone who has always wanted to set up a group but is not sure where to start.
"It might be looking at funding opportunities, it might just be support for developing policies and procedures for a group.
"It's anything a person might need to set something up, and to keep it running, that would benefit the community."
Such work, strengthening our communities, fits in with the cluster's ethos of nurturing people's wellbeing and helping prevent them from falling ill in the first place.
Roxane said: "I think loneliness and isolation is a big issue across the whole of Wales, and it's not just older people who are isolated, it is younger people as well.
"Lots of services within the community are being cut. There aren't as many post offices as there used to be or places where people would go naturally to meet others, people don't go to church or chapel as much, there aren't as many pubs open as there used to be.
"The community is changing and there aren't as many opportunities or places where people can meet up and they may not have the confidence to attend different groups."
West Glamorgan Regional Partnership is responsible for bringing local authorities and the health board together alongside third and independent sector partners to develop services to best meet the needs of the population.
Its Programme Director, Kelly Gillings, said: "We're very excited to see this piece of work gathering momentum.
"Our local communities have so much to offer, and the mapping exercise will help make best use of these skills, talents and resources.
"It's all about enhancing the overall well-being of citizens through effective joint working and supporting communities to thrive by making the most of their assets."
For more information about the project, or to get involved, visit: https://www.scvs.org.uk/onp