Hard working therapy dog Seren has just made her 200th visit to Singleton's Radiotherapy department, where she visits weekly with her owner Francis Davies to bring smiles to cancer patients.
When Francis Davies was having radiotherapy treatment for prostate cancer Seren was a great comfort to him. After his treatment was complete he wanted to give something back and recruited his four-legged best friend to help.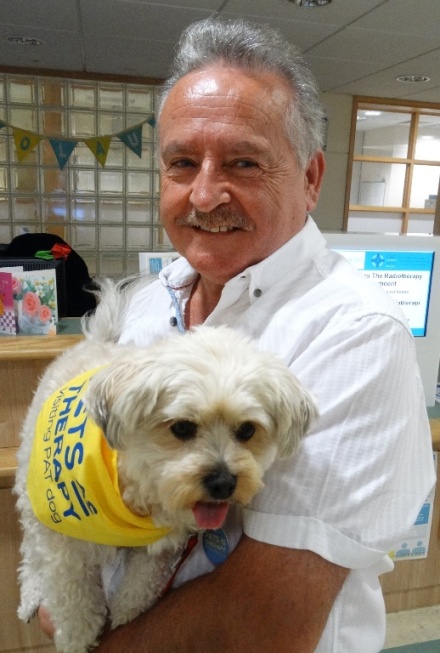 Seren, pictured with her owner Francis.
So he volunteered her services with the charity Pets As Therapy (PAT) and the Yorkie and bichon frise cross is now part of an army of PAT dogs.
PAT dogs are pets who are used to visit hospitals, care homes, schools or anywhere where people will benefit from the comfort and companionship of an animal.
Together Seren and Francis have been bringing smiles and love to the patients, families and staff at the department every Wednesday ever since.
Her 30 minute visits are always welcomed, radiographer Stuart Foyle says: "Seren was just born for this. She brightens up the place when she comes bounding in.
"It's not just patients who benefit, the staff love having her around too.
"In reality, Seren gets a lot of the attention, but Francis is really the key to all this.
"Seren is an ice breaker, and gets people talking and Francis is a great listener.
"It's so incredibly generous of him to give up his time to bring Seren to the hospital. We are so incredibly grateful to him, and Seren, of course."
Seren marked her 200 milestone with lots of cuddles and pats from the patients at the department.
"She loves the attention," says Stuart, "it's impossible not to make a fuss of her. Everyone looks forward to Wednesdays."