Above left to Right: Sophie Croucher, David Connell, Kieron Power, Stuart John Evans, Olivia Rees
A team of pharmacists from Singleton Hospital has been commended at a major awards ceremony for its efforts to tackle one of the leading causes of death in cancer patients.
The team, from the hospital's Venous Thromboembolism (VTE) Clinic, was invited to the Anticoagulation Achievement Awards held in the Houses of Parliament as part of World Thrombosis Day.
Its work, led by Swansea Bay University Health Board clinical pharmacist Kieron Power, is centred around raising awareness of cancer-associated thrombosis, commonly known as blood clots.
The development was kicked-started by the alarming statistic that one in five cancer patients develops potentially life-threatening clots – a statistic Kieron and his team were determined to do something about.
A dedicated service pathway into the existing pharmacist VTE clinic was established to provide a single point of referral.
Patients were seen in clinic for face to face reviews on three occasions within the first month.
They were then referred to a virtual clinic where they were monitored and supplied with anticoagulation therapy. A dedicated helpline is also available during working hours
As a result, patients benefitted from a range of interactive resources to support patient understanding and empowerment of their condition and treatment.
A spokesman for the AAA Judging Panel said: "The team's work has brought very clear benefit to all patients, ensuring their support and treatment is tailored for them.
"There is clear evidence that not just have patients received better support, counselling and care, but individual anxiety and fear levels as well as their risk of further blood clots have reduced significantly.
"We hope these awards not only recognize the outstanding work, teams and individuals involved, but also act as a learning resource for others."
Kieron, a clinical pharmacist, said: "I am extremely proud of the entire team and what we have set out to achieve.
"Although the primary focus of our awards submissions has been around the work of the pharmacy team, we would also like to acknowledge the support of the wider team in the form of all of the staff of the acute GP unit in Singleton, and also the health board's oncology teams.
"I think I speak for all of us when I say, that the greatest reward has been the knowledge that our service is making a difference to our patients."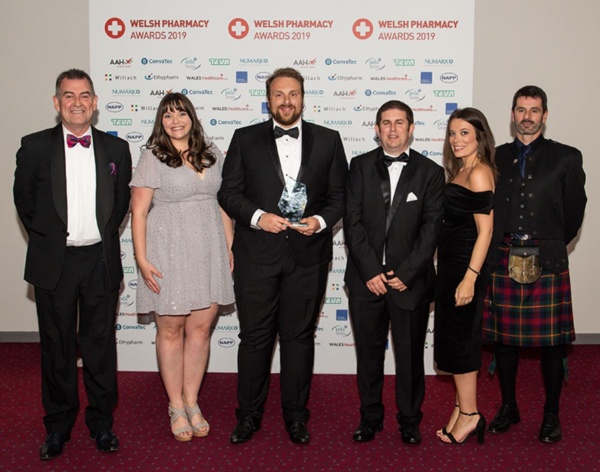 Left: the team picking up its Welsh Pharmacy Award
The accolade follows on from the team being named Team of the Year in this year's Welsh Pharmacy Awards as well as being shortlisted in the NHS Wales Awards.
Judith Vincent, SBUHB Clinical Director for Pharmacy, said: "Kieron and his team have worked hard to develop a service that truly benefits patients.
"By identifying the unmet needs of patients who experience cancer-associated thrombosis, the team has been able to create a safe and effective service that empowers patients to take ownership of their condition.
"What's more, the work has illustrated the benefits of the wider pharmacy team, highlighting how both pharmacists and technicians can be utilised effectively in the management of specific conditions.
"I am proud of the fact that their efforts have been acknowledged nationally on two fronts, both on a Wales- and UK-wide basis."