Above; Ceri Branagh, Ceri Williams, Nicola Lewis, Clare Haste, Amanda Francis, Gemma Dascombe and Donna Richards with a few of their furry friends.
Children in Swansea Bay with exceptional health needs will receive very special, and very fluffy, gifts this Christmas.
Build-a-Bear Workshop has selected WellChild as its UK charity this Christmas, with the aim of giving a bear to up to 5,500 youngsters.
WellChild is a national charity which helps get seriously ill children and young people out of hospital and home to their families.
Nicola Lewis, Matron for Children's Community Nursing Services based at Neath Port Talbot Hospital is a Nurse Advisor for the charity.
Because of Nicola's involvement, 80 of the bears will be gifted to children in the Swansea Bay area who receive care from the Children Community Nursing Service.

She said: "I was asked by WellChild if we wanted some of the bears here, and I instantly said yes. I mean, who doesn't love a teddy bear?"
Stage 8 Theatre School based in Neath did a bucket collection at their latest pantomime which means children receiving the bears will also have a voucher for accessories.
Parents will also be offered a booklet from WellChild, outlining how the charity could help and support them.
Below; Nicola Lewis with some of the bears who will find homes with children with exceptional health needs in the Swansea area.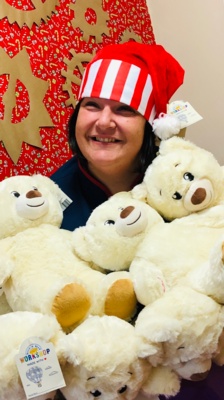 "It's a holistic approach," said Nicola. "It's such a great way to raise awareness of the charity and the important work they do amongst parents and carers.
"And, of course, the teddy bears are adorable and the children will love them."
A further donation of bears have been presented at a special Christmas Party held at the weekend, with the rest distributed to the children by Christmas.
The children will also benefit from gifts bought as part of an appeal run by Swansea Bay Health Charity.
Nicola said: "With the bears and all the kind donations that have been donated through the heath board charity it's going to be a great Christmas.
"We absolutely love going all out here, we're in the process of decorating the department as Santa's workshop.
"The bears are currently sitting in my office waiting to be given out to the children.
"They've sort of taken over and I'll miss having 80 little pairs of eyes staring at me while I work when they've gone!"