Callous thieves appear to be targeting cars belong to Morriston Hospital staff whilst they are busy going about their jobs treating patients and saving lives.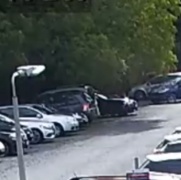 Left: a still from CCTV of a car being stolen from Morriston Hospital last year
Swansea Bay University Health Board employees are being warned to be on their guard, following reports of vehicles being targeted by thieves, with them either being stolen or stripped of parts.
The problem is not new, with South Wales Police meeting health board officials last year to offer advice after nine vehicles were stolen from the staff car park in Morriston Hospital over a six month period, from May to October, but it had appeared to have gone away.
Unfortunately there have been fresh reports of vehicles being stolen - 4 cars and 3 motorcycles – from the staff car park in Morriston since the start of August.
Des Keighan, assistant director estates, said: "We are absolutely appalled by the callous nature of these thefts. These are not opportunistic thefts. Thieves are deliberately targeting cars in hospital car parks.
"Health staff who have come to work to help people who are ill or injured, finish after a hard shift only to find their car has either been stolen, or had parts stolen from it.
"This is not only causing a great deal of inconvenience, but it is hitting our staff in the pocket. They still have to pay excess on any insurance claim they make and some may lose their no claims bonus or see their policies go up as a result of their claim. Staff who have been the victims of these thieves are very upset and angry."
It appears thieves have been targeting modern high powered vehicles and Ford Fiestas in particular.
Swansea Bay UHB has asked all staff to remain vigilant and report any suspicious activity to the police immediately on 999. It is advised that employees do not approach anyone they suspect may be committing a crime.
Car theft prevention advice from South Wales Police, has also been reissued to its employees across all sites.
Joanne Jones, Swansea Bay's head of support services, said: "South Wales Police have confirmed that car thefts are happening across the force but it is disappointing to see that thieves are also targeting hospital staff who come to work to care for patients."

Advice issued from South Wales Police
Theft of keyless entry vehicles
Criminals across Britain are exploiting the relay car hack to be able to quickly and easily break into cars in seconds, without causing damage.
The scam works by using a pair of radio transmitters, which intercept the signal from the car key to trick the car into thinking a key is present.
One of the radio transmitters is positioned by the car, while the other one is held up to the front door to try and intercept the nearby signal.
Security tips
1. Store your fob within a metal container or Faraday bag
2. Check to see if your fob can be turned off
3. Store your fob away from doors and windows
4. Use a Thatcham or Sold Secure approved steering lock
5. Fit a tracking device
6. Ensure the vehicles security software is up to date
Theft of vehicles via OBD (on-board diagnostics) Port
Many more vehicles are being stolen, normally ranging with the age of 2015-16 via the OBD Port.
These vehicles are normally attacked in one of two ways, the driver's door lock is picked allowing the thief to open the door and gain access to the vehicle's OBD port, which is situated in the drivers' footwell. Once they get to the OBD Port they will simply program a new key and drive away. This takes around 30-60 seconds from start to driving away.
The other method used is smashing the front driver's window, but in a manner that it doesn't smash the whole window. This in turn doesn't trigger the full alarm; once they have gained access to the OBD they will program a new key within seconds.
Security tips
1. Relocate the OBD Port
2. Remove the fuse for the OBD
3. Fit a guard to the OBD Port
4. Use a Thatcham or sold secure approved steering lock
5. Fit a tracker system
6. Always use Thatcham or Sold Secure approved products