Success for innovative vaccine pilot schemes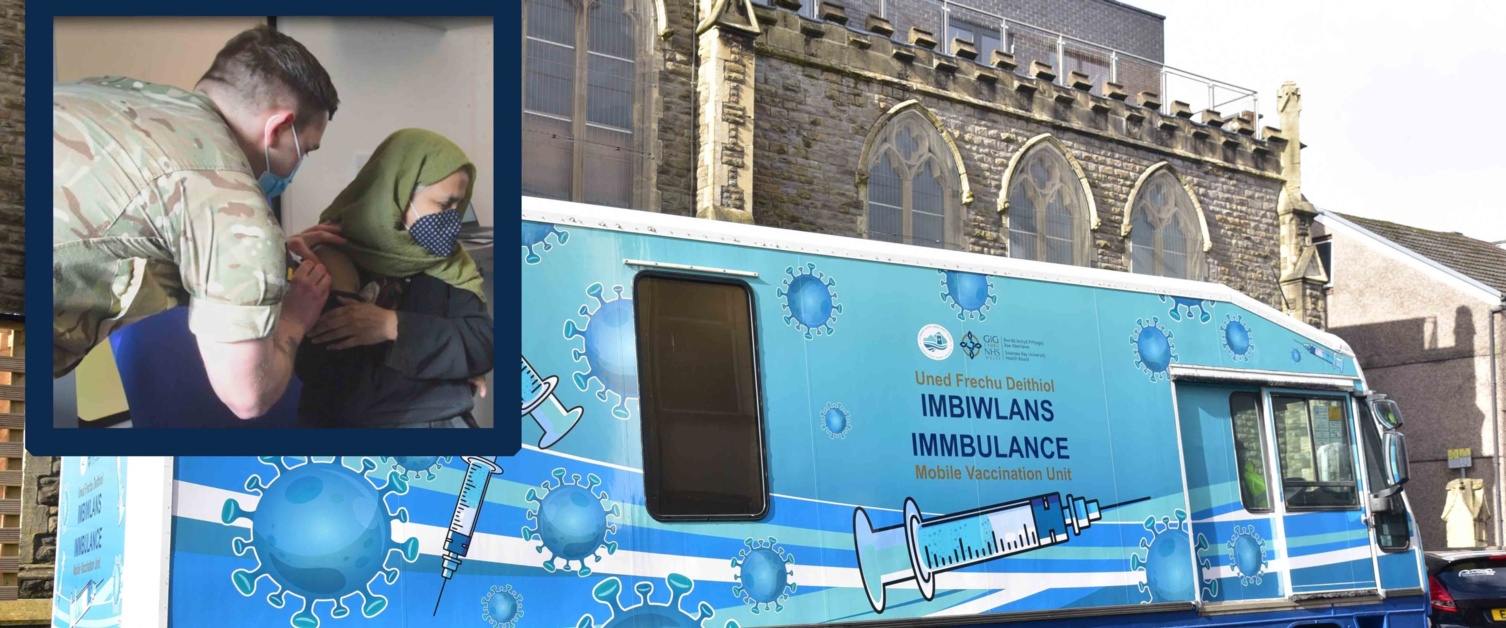 Main image: The Immbulance outside Swansea Mosque in March 2021. Inset: Banessa Khatun, 64, from Swansea, receives her first Covid vaccination on the Immbulance from Private Josh Morris of 4 Armoured Medical Regiment.
An innovative mobile clinic has given Covid vaccines to more than 1,200 people who might otherwise have missed out.
During its pilot run since February, the Immbulance has brought hope to the doorstep of communities which are the most remote from the mass vaccination centres.
It's also parked up outside a mosque and in areas easily accessed by the homeless communities of Swansea and Neath to offer both reassurance and easy access to vaccination for the most vulnerable.
And a new community pharmacy pilot scheme has also seen around 750 further people vaccinated closer to home at three chemists: Newbury and Castle pharmacies in Mumbles and Well pharmacy on High Street in Swansea.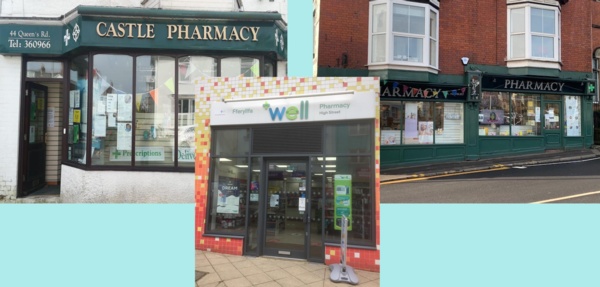 "We're really thrilled with the success of both the Immbulance and community pharmacy pilot schemes," said Dorothy Edwards, Covid Vaccination Programme Director for Swansea Bay University Health Board.
"These projects have never been about big numbers. They're about providing equality of access to vaccination, which is our main way out of this pandemic, to those for whom a one-size-fits-all approach through a Mass Vaccination Centre or GP surgery isn't necessarily practical or suitable and this can be for a variety of reasons.
"We're determined to do all we can to ensure no one is left behind."
Catherine Watts, Matron for Immunisation and Vaccination, came up with the idea for the Immbulance, which has been fitted out and run in partnership with Neath Port Talbot County Borough Council.
She said that although they are always looking to increase the numbers vaccinated on the vehicle – appointments have risen from 54 to 81 per day – staff still have more time to talk to patients about the benefits of vaccination and offer enhanced support and privacy for those who need it.
"We've had people come on board who are so nervous and by the time they get off they are smiling," she said.
"We're hoping it will help change views about vaccination for the better."
A further community pharmacy is now due to join the pilot scheme and the Immbulance will continue its work targeting areas where vaccine uptake is challenging.
Both the mobile clinic and community pharmacies will also be involved in giving second doses.
Dr Anjula Mehta, Group Medical Director for Primary Care, Community and Therapies Services, said: "We are hugely proud of how successful the community pharmacy pilot scheme has been to date and we look forward to seeing its expansion in the coming month with more pharmacies joining the scheme."
"I know our skilled community pharmacy colleagues are excited to be involved in delivering these vital vaccines in convenient and familiar places for the local community."
Karen Jones, Chief Executive of Neath Port Talbot Council, said: "Each person that takes up the offer of a Covid vaccination helps improve not only their own protection against the virus but also that of the wider community they live in, so we are pleased to see our former mobile library, as the 'Immbulance', helping to take the vaccines directly to local people."