First vaccines given in Immbulance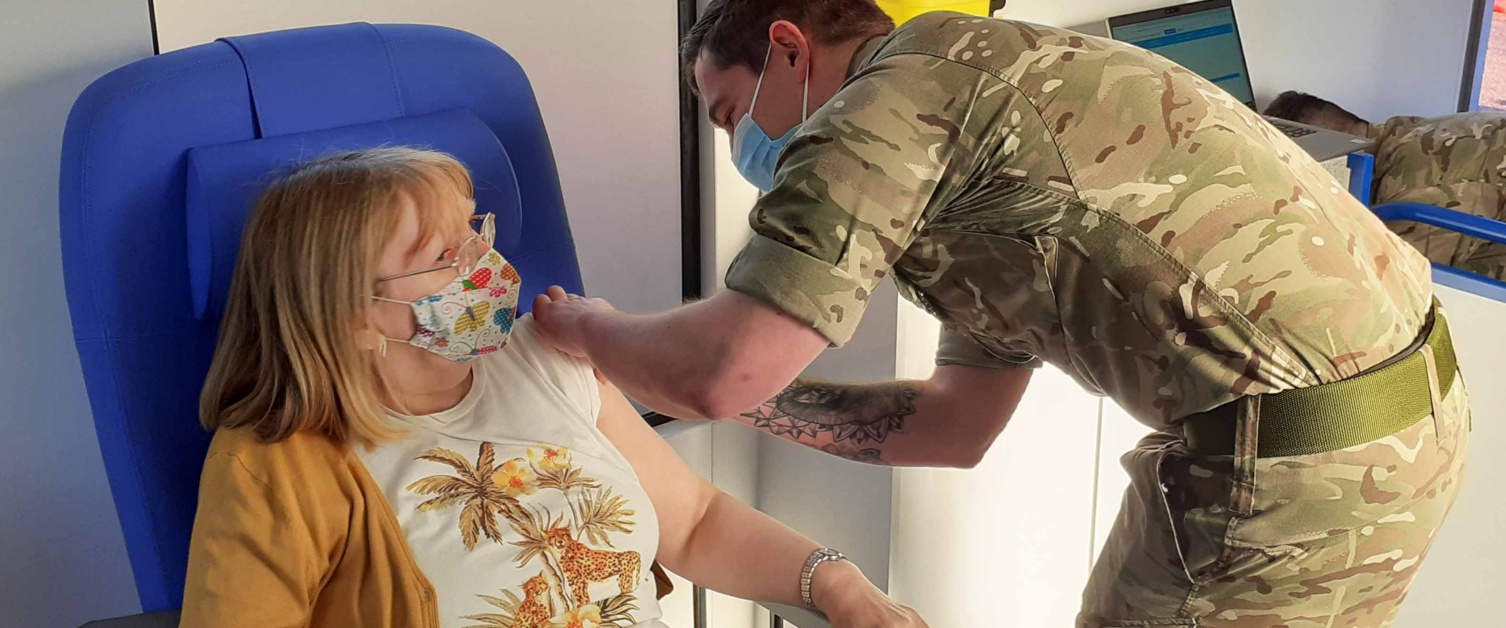 Main image: Linda Sanders, 66, from Clase, Swansea, was vaccinated by Private Josh Morris of 4 Armoured Medical Regiment.
Sixty-six-year-old Linda Sanders today (Thursday, February 25th) became the first person to receive an injection in a new vaccination clinic on wheels.
The Primark worker from Clase in Swansea boarded the Immbulance, which is undergoing a two-day trial run at the city's Guildhall.
She was the first of 110 people who have been invited to receive the Oxford-AstraZeneca Covid vaccination on the converted mobile library on Thursday and Friday.
It will venture further afield in the coming weeks.
Vaccinations on the Immbulance are by appointment only. The public are urged not to turn up unless they have been sent an invitation.
"It's brilliant," said Linda.
"My partner was able to drive me here today and it took just 10 to 15 minutes. But if I had to go to either Gorseinon or Margam Mass Vaccination Centres, I would probably have to have two taxis."
Second in line for a vaccine was Pauline Williams, 66, of Tonna.
"It's a really good idea because obviously you can vaccinate more people," she said.
Believed to be the first of its kind in Wales, the Immbulance is designed to reach those who are unable to travel to vaccination centres or GP surgeries, either because of poor transport links or mobility issues.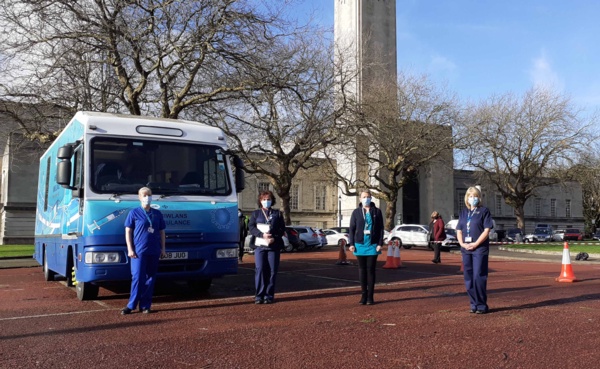 Left to right: Immunisation Coordinator Catherine Courts, Matron Catherine Watts, Immunisation and Vaccination Lead, Clinical Director Pharmacy Judith Vincent and Dawn Williams, Immunisation Coordinator Credit: SBUHB
However, it is not designed for house calls. It will be parked up in a convenient location offering the vaccination by appointment to around 100 people per day when fully operational.
It's hoped it will start to reach other areas of Swansea Bay, including more remote communities, as soon as next week.
"It's great to see the Immbulance out there and delivering vaccines to people in the community," said Dorothy Edwards, Covid-19 Vaccination Programme Director for Swansea Bay University Health Board.
"We know it'll be an invaluable asset as we continue with this challenging programme and look forward to seeing where it gets to."
Rob Stewart, Leader of Swansea Council, said: "We've been working very closely with NHS colleagues to help save lives and protect people in Swansea and Neath Port Talbot.
"We welcome the Immbulance which is a really innovative way to make it as easy as possible for people who cannot get to a vaccination location to get their vaccines more easily and we're pleased we could make a contribution to helping with this crucial work.
"Over the last year the council has helped the NHS by building the Bay hospital, by setting up eight Covid-19 mobile testing centres and two mass vaccination centres. But everyone can do their bit. When you're invited for yours I'd urge you to have the vaccination to help keep you and others safe."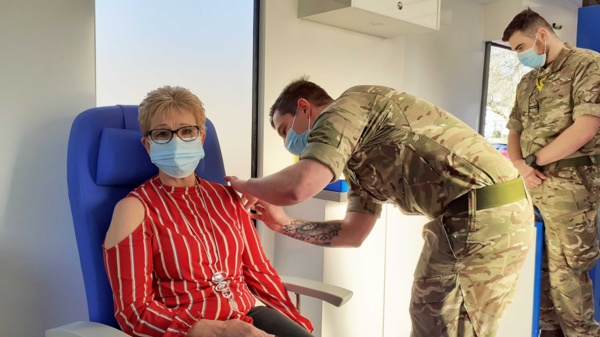 Pauline Williams, 66, from Tonna, is vaccinated by Private Josh Morris. Far right is Pilot Officer Dominic Compton-Davies.

Credit: SBUHB

Just two months ago the Immbulance was a mobile library belonging to Neath Port Talbot Council.

When it came to the end of its time in that role the council donated it to the health board and dedicated weeks to transforming it into a clinical space which would not look out of place in any hospital.

Rows of book shelves, a wooden reception desk and carpet in the six metres long by three metres wide mobile library were stripped out and replaced with clinical clean white walls, a sink, vastly improved lighting, a vaccination fridge, secure storage cupboards for on the move, easy clean flooring and curtains to divide it into cubicles.

A wheelchair lift was retained to maintain easy access and a wireless internet connection installed so patient details can be entered straight onto the immunisation database.

Cllr Rob Jones, Leader of Neath Port Talbot Council, said: "We have been working closely alongside Swansea Bay University Health Board ever since the beginning of the pandemic and were pleased to be able to convert and donate this vehicle to assist the vaccine rollout across the region.

"Instead of books this vehicle will now help to bring vaccinations to those areas further from the fixed venues and to those who may be facing mobility or accessibility issues."