Need for investigations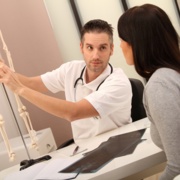 Investigations are not always required to confirm a diagnosis. They commonly show abnormalities, which, in most instances that do not contribute to pain. Scans often give clinicians too much information, most of which is unrelated to symptoms. For example, X-rays and scans commonly show normal, age related changes which, in many people do not cause pain. Consequently, your clinician will only refer you for imaging if they feel it is necessary to aid diagnosis or to assist surgical planning and further treatment.
Here are some research findings conducted on people with NO PAIN.
87% of people between the age of 20-70 with no neck pain had 'bulging discs' on MRI.
37% of 20 year olds and 96% of 80 year olds had 'disc degeneration' in their lower back on MRI. However, none of these people had pain.
96% of patients aged between 40-70 had abnormalities on shoulder investigations, but no pain.
43% over 40 year olds had a knee cartilage defect on MRI, but no pain.
This research explains why X-rays or scans are not always able to explain pain or symptoms. It is important that you understand this prior to discussing the role of imaging with your CMATS clinician.
For further information on referral for imaging, please follow the links below:-
NICE guidelines for low back pain.
https://www.nice.org.uk/guidance/qs155/chapter/quality-statement-2-referrals-for-imaging
British Association of Spine Surgeons (BASS)