Digital Consent Forms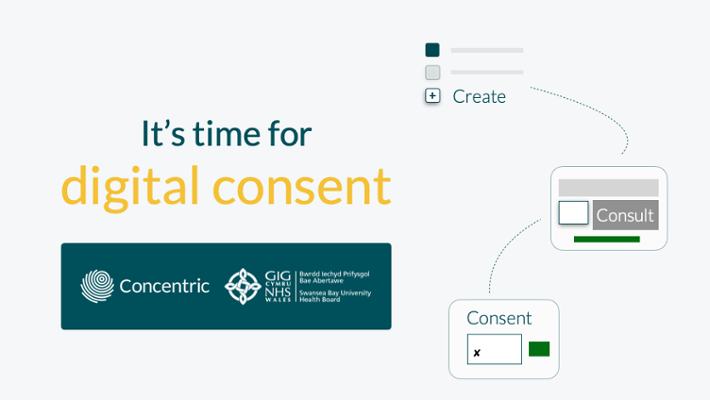 Consent to treatment
To improve our consent process and support decision making, a number of specialties at Swansea Bay University Health Board are using a new digital consent application by Concentric Health (https://concentric.health/). You may receive genuine communication from your clinician via Concentric, either as an email from the email address notifications@concentric.health, or as an SMS from a mobile contact named 'Concentric'.
What is consent to treatment?
Consent to treatment is the principle that a person must give their permission before receiving any type of medical treatment, test or examination. For consent to be valid, it must be voluntary, informed, and the person consenting must have the capacity to make the decision. Depending on the treatment being proposed, consent may be given verbally or in writing.
When is Concentric used?
Concentric is used by clinicians and patients when written consent is required. It can be used in face-to-face consultations or remotely to facilitate shared decision making, to document a patient's consent with an electronic signature, and to support patients' understanding outside of their consultations. Concentric is currently used by some departments within the Health Board.
Can the content be trusted?
All Concentric content has been validated to be accurate and appropriate by senior clinicians within the trust. In addition, information can be personalised for each patient by their clinician, so that it is appropriate for each individual circumstance.
What happens to patients' data?
All patient data is stored securely, using systems that are both approved by the Health Board's information governance team. The patient data stored is data that is required to provide patient care. The trust, rather than Concentric Health, controls how the data is used and how long it is stored for. A data protection impact assessment has been completed and can be reviewed on request. A data processing agreement is in place between Swansea Bay University Health Board and Concentric Health and can also be reviewed on request.
How can an issue be reported?
To share feedback or to report a software issue, the Concentric team can be contacted at support@concentric.health. If you need to raise a concern or wish to make a formal complaint, this should be done via the Health Board. Further information on how to raise a concern or formal complaint can be found by following this link to the Complaints page of this website.